Loading
The Alaska Purchase - Sewards Folly?
Was the Alaska purchase really Sewards Folly? Let's start with a little history about Alaska. Then you can decide...
Alaska was first discovered by the Europeans in 1741 when Alexei Chirikof, with the Bering expedition, first set eyes on Alaska.
However, it is believed that humans first crossed into Alaska 13,000-20,000 years ago via the Bering Land Bridge that once connected North America with Siberia. The first settlement by humans in the history of Alaska is believed to have been more than 10,000 years ago by ancestors of the Alaska natives of today. In 1784, the first permanent Russian settlement was established on Kodiak Island by Grigory Shelikhov, a Russian fur trader.
The Alaska purchase from Russia took place in 1867. This purchase was sometimes called "Sewards Folly" or "Seward's Icebox", because Secretary of State William H. Seward negotiated the purchase of Alaska, and there were many in America who felt that the land purchase was a mistake. There was such a battle in Congress over the purchase that it took from March, 1867 until October of that year for the purchase to be completed. In the 1890's, after the Klondike Gold Strike, opposition finally subsided.
The United States paid Russia $7,200,000, which amounts to 2 cents per acre. On October 18, 1867, Alaska officially became part of the United States, and the Russian flag was removed and the US flag raised. Looking at the beautiful Alaska photographs on this page, I have to say, I'm glad the purchase took place!
On January 3, 1959, Alaska officially became the 49th state of the United States of America
The Little Diomede Island of Alaska is separated from Big Diomede Island, Russia by less than 3 miles (Yes, you CAN see Russia from Alaska!)
The Senate ratified the deal to purchase Alaska from Russia by just one vote
The Alaska purchase was also known as President Andrew Johnson's "Polar Bear Garden" by those who opposed the purchase
Alaska's nicknames are "The Last Frontier" and "Land of the Midnight Sun"
October 18th is known as Alaska Day
The last Sunday in March is known as "Seward's Day" because it was in March, 1867 that William H. Seward began working on the Alaska purchase
The state capital is Juneau, which is located in the SE region of Alaska
The Japanese occupied Attu and Kiska Islands and also bombed Dutch Harbor in the Aleutian Islands in 1942, but U.S. forces repelled the invaders.
The Alaska Highway was built in 1942 as part of the war effort
The word Alaska comes from the Aleutian word "Alyeska" or "Aláxsxaq" loosely meaning "The Great Land."
For a period in the summer, the sun never completely goes below the horizon. The sun is visible at midnight, which is where the "Land of the Midnight Sun" nickname comes from
Because of the long daylight hours, fruits and vegetables grown in Alaska often grow to twice their "normal" size
Alaska has a land mass that is larger than Texas, California and Montana combined
Alaska has more than 3 million lakes and over 100,000 glaciers
The Trans-Alaska Pipeline moves up to 88,000 barrels of oil per hour on the 800 mile journey to Valdez
Dog mushing is the official state sport
The willow ptarmigan is the official state bird
The state flag of Alaska was designed by 13 year old Bennie Benson from Cognac, Alaska in 1926
17 of the 20 highest peaks in the US are located in Alaska
Alaska accounts for 25% of the oil produced in the United States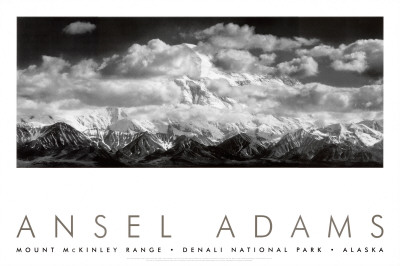 Mt. McKinley Range, Clouds, Denali National Park, Alaska, 1948
Ansel Adams
Buy From Art.com
---